Charles John Bentley
My name is Charles John Bentley age 56, born July 1945. I was actually born at Collar Hall/House in Prestbury where I believe St Mary's Hospital in Manchester was moved to during the war.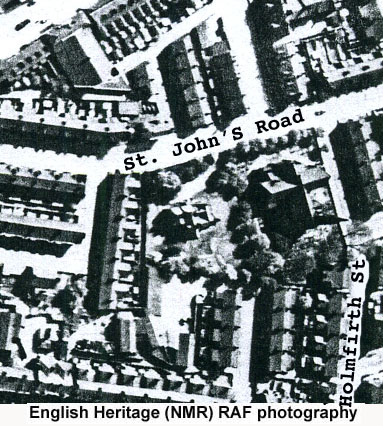 I was brought up at No. 46 St Johns Road, Longsight where I lived until age 24. My mother was born in the house in 1904 and evidently all her brothers and sisters (she was the youngest). I assume my grandparents bought the house when new. My parents lived in the house until it was bought under a compulsory purchase order and demolished, then they moved to Cheadle.
I was christened at Longsight Free Christian Church on the corner of Birch Lane and Plymouth Grove. This was later taken over by the BBC as a transport/storage depot. Our doctors were Dr Smith and Dr Vipont Brown whose surgery was on Birch lane next to the Church. I believe Dr Vipont Brown was related to Dr Metcalfe Brown who was the Medical Officer of Health for Manchester. Did Metcalfe Brown live at Slade Hall?
My father was a self employed painter and decorator (Frank Bentley) and we had a plaque on the wall at the front of our house advertising the business. Next door but one was Harry Craig, French Polisher who also had a plaque on his wall. I remember many curious looks and comments during the Bentley and Craig murder trials (no relation).
Our house , a large 4 bedroomed terrace and back yard was directly behind the wall of the Shaftsbury cinema with a wide 'entry' running in between where we used to play. Our local cinema was the Shaftsbury, and I remember the afternoon matinees costing sixpence (6d). We used to buy sweets at the shop adjoining the cinema which was run by I think two spinsters called Kitchen. The back garden of their shop led onto the entry and we lost many cricket balls and footballs as the women would not return lost balls. I seem to remember once climbing over the wall to retrieve a lost ball and was caught by one of the ladies. I was frog-marched most violently led by the ear to our house. My father, a normally placid man in fact blew his top with the woman for manhandling me.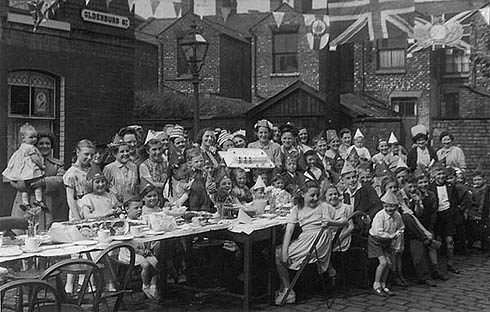 1953 - Coronation Party - Oldenberg Street
photograph donated by Charles Bentley
There were another two cinemas within a few hundred yards, the Kings and the Queens. In later years we would also go to the Casino and Trocadero in Rusholme, the Apollo in Ardwick and occasionally the cinemas in Levenshulme.
We used to scavenge around the many 'crofts' for bike parts and old prams with which we used to make bogies. It wasn't until years later that I realised that these 'crofts' were in fact the remains of bombed houses. We used to make track bikes with 'sit-up-and-beg' handlebars and race on home-made tracks on the cinder car park behind Belle Vue Longsight entrance emulating our heroes from the Belle Vue Aces.
Street lighting was the old gas lamps with bars sticking out from the sides. A favourite pastime was to try to throw an old bicycle tyre over the lamp to fall on the floor like a hoop-la. Later electric lights were fitted and the pavements were tarmaced. I remember spending hours roller skating on this new surface by the bright light of the these new lamps. We used to play hop-scotch, and marbles on the pavement and what we called 'black and white rabbit' which involved knocking on doors and running away. Does anyone remember collecting clear 'marbles' from outside the Co-op printworks on Rainforth Street. I think these were actually stoppers from acid bottles, however we never seemed to come to any harm.
'Our park' was Birch Park where during the school summer holidays, we would take a tent, picnic made up of jam butties with orange juice made from the concentrate in the small square bottles which I think were issued by the government. We would go out in the morning and stay until tea time day after day playing football, cricket and exploring the brook which ran through Birch Park and into Platt Fields. We always intended to follow the brook under the roads into Platt Fields, but were put off by tales of rats and the 'parkies' who were always keeping a close eye on us.
We would go into Platt Fields sometimes sailing (and losing) small boats on the lake, hire a rowing boat or in later years visit the pets corner. I remember when very young travelling around the lake on a large boat. Was it a steamer?
My father was a keen aquarist with about twenty tropical fish tanks in a greenhouse in the back yard. We used to collect newts from Jackson's clay pit and keep them in a vivarium in the greenhouse.
I remember my mum who was a housewife regularly taking a stream of local kids out for the day whist their mums were at work. The kids would arrive at our house with packed lunch and their bus fares and off we would go to Platt Fields, Fletcher Moss, Boggart Hole Clough, Debdale Park. I wonder what people must thought seeing this troupe tagging along behind my mum all obviously of different parentage.
I have been a musician for many years and my earliest claim to fame started at home with the skiffle craze. We had a small garage at the bottom of our yard where my father kept his motor bike and sidecar. I remember making guitars out of cigar boxes etc and putting on shows in said garage. We had candles in tins for spotlights and charged a penny (1d) which included cream crackers with jam. My father regularly used to take us to variety shows at the Ardwick Hippodrome and Hulme Hippodrome and I remember seeing Jimmy James, Ken Platt, Norman Evans, Hylda Baker, Lonnie Donegan amongst others.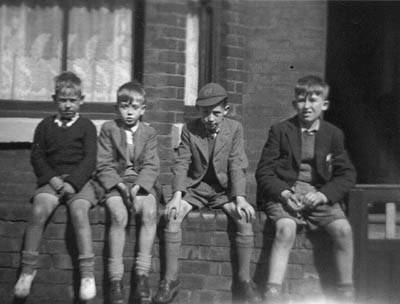 Charles is the second from the left and his brother
David is on the far right of the picture above
I went to St. Agnes school on Hamilton Road until aged 11, then to Didsbury Technical High School. I attended St. John's cubs, remember Mrs Monks cub mistress. Jackie Monks (third from the left in the picture on the right), her son my best friend lived three doors down from us. Other pals from St. Johns Road were Alan Morris (far left in the picture on the right) and Kenny Ashworth. Kenny Ashworth's mum took in lodgers from the Army Pay Corps who were stationed at Pownalls Daisy Works.
I joined Roby scouts on Dickenson Road, youth club and Sunday school. Eric Jardine was scoutmaster and Ralph Osbaldesten assistant.
Most of the friends I grew up with were involved with Roby and lived around the Victoria Park area. The roads then were still private with huge pot holes and gate posts on roads leading into the area. We would go hiking on Sundays to Glossop and the moors getting the No 53 bus to Hyde road then a trolley bus to Hyde, then on to Glossop, or go camping for the weekend to Cheshire borrowing the Scout's tents and equipment. Who remembers Mr (Pops) Johnson the caretaker. Ex-fireman who probably weighed at least 18 stone. He could climb and descend a ladder without causing a single quiver. I used to help him load coke for the heating system into the cellars for which he would give me empty beer bottles he had collected from the extensive church grounds usually a suitcase full at a time. I would take these to local off-licenses and collect the threepence (3d) deposit per bottle.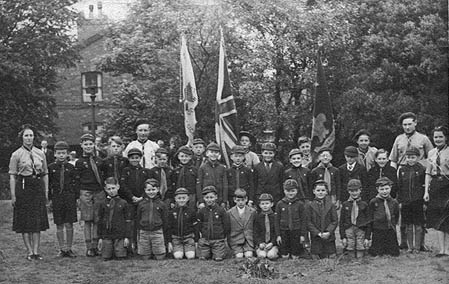 1954 - St. John's Cub Pack - photograph donated by Charles Bentley
We used to have regular Saturday night dances with a live band and I along with a friend used to attend to the cloakroom which was upstairs in the scout hall. We charged threepence (3d) which we were allowed to keep, the only outlay being a book of cloakroom tickets and a card of pins. When the dance was in full swing, we would lock the doors and sneak off to the local off-license and buy a bottle of cider.
The scouts put on a pantomime every year in which I appeared several times. These events were very professionally staged, my older brother arranging the lighting etc. The scouts also held regular jumble sales with goods collected using the troop van (ex-Cadburys). We would often collect pianos which rarely sold so we would have competitions to smash them up small enough to fit through a car tyre in the fastest time.
After scouts on a Friday night, we would all go to the Lainden Road chippy off Dickenson Road. We were always watchful for the 'teddy boys' from the Birch park roller skating rink as we all wore shorts and were an obvious target for these 'boys'
Back to St. Johns Road. Who remembers Struthers & Monks motor repair garage on the corner of Oldenburg Street and the corner shop on the same corner 'Starkeys'. I vaguely remember buying sweets there with a ration book. We had numerous corner shops within walking distance as well as all the shops on Stockport Road. Mike Maxfield, lead guitarist with Billy J. Kramer and the Dakotas lived at the corner shop directly facing our house for a while.
On Stockport Road, some of the shops and businesses I remember are : Martins bank, TSB Savings Bank, The Artisan Outfitters (men's clothing), Kitchens (sweet shop), Walters (newsagents), Ainsworth (jewellers), Bon Marche (clothing), Chidlows (grocers), John Willams ( grocers and early supermarket), Timpsons (shoes), M & S Co-op (grocers), Beswick Co-op, Englands (shoes), Leons (men's outfitters), UCP tripe shop, Woolworths, Major Paskins (barber), Allendales (greengrocer), Porteous (ironmongers), Heathcote (chimney sweep on corner of Church Road and St. Johns Road), Raffo's (milk bar). Who remembers the not so friendly rivalry between the 'teds' from Raffo's and from Sivori's milk bar in Levenshulme. We also had a newsagent owned by the largest milkman in the country. There were many others whose names I cannot recall including furniture shops, chip shops, tobacconists, newsagents, toy shops, butchers etc. The main shopping area was between Slade Lane and Plymouth Grove and in the 1950's and 1960's, people used to come from miles around to shop in Longsight.
My first suit came from Leons which was a made-to-measure pinstripe Italian style. Who remembers a short back and sides at Major Paskins ending with a singe using a lighted taper and comb then the hair cream which set rock hard. I believe Major was his actual Christian name.
Frank Feltham used to deliver greengrocery on his horse and large rubber tyred four wheeled cart. He stabled the horse between Rainforth street and Stockport Road just behind Leons the tailors.
Black & Greens Tips Tea. We used to collect the labels and a van used to call in the area where you could exchange the labels for free gifts.
Eccentric characters. Nellie Wolstenholme, a spinster lived on corner of St. Johns Street and St. Johns avenue. She was an animal lover and kept at least 20 cats and as many dogs always taking in strays and unwanted pets. My mother also an animal lover befriended her and I remember Nellie's house as you can imagine having a few unwanted smells and ruined decor.
High Street (Victoria) Baths. I didn't learn to swim until in my mid twenties and was terrified of water. My mother religiously took me to lessons there with Mr Forbes. I must have been his only total failure as I never learned to swim even one stroke from the stone steps in the corner at the shallow end.

Notable people I remember include Syd Thornton who ran a motor cycle repair business off Stockport Road just past Crowcroft Park who raced scramble bikes. Harold Clark had a motor cycle sales shop on Stockport Road opposite Crowcroft Park and was a champion motor bike road racer, I think winning the Isle of Man TT amongst others. My father being a motor bike rider knew Harold and I remember going to the back of the shop and sitting on his racing bikes.