Small Businesses
The Garages on Lyon Street
When I went to Plymouth Grove School I used to walk up Holt Street and turn onto Earl Street at Bibby's corner, cross the street and turn into Harper Street. On the north side of the street was an entry that I ducked down and then I turned left behind the first house and came out on Lyon Street. On the right of the street was a row of terraced houses on the left was a block of flat roofed garages, many of which were used by small businesses.
The first one I saw, smelt and heard, coming that way, was a small saw mill making bundles of firewood. I went there often because I kept rabbits and mice and needed sawdust for the cages. So I would take a big biscuit tin and go down to the firewood place and ask if I could have some sawdust. I would dig my tin into the big pile by the door and use it to scoop up a good load.
Around the corner the garages faced onto Ogilvy Street and it was here that they charged up the accumulators that people used to run their radios. I called them glass batteries.
---
Middleton's Undertakers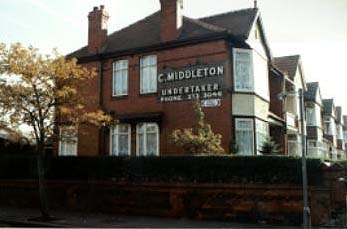 Located at the corner of East Road and Northmoor Road.
Photograph donated by Graham Todd.
***********************************
Backstreet Bookies
Before off-track betting became legal in England, before Betting Shops sprung up everywhere, there was "less than legal" off-track betting and in my part of Longsight the local bookie was a man much admired by the community. In fact he owned a garage on our street and sponsored a local football team. He ran his business out of house on Victoria Street but you went to place a bet in the cabyard of the house. The backyard walls were whitewashed and the relevant sections of the morning paper were posted up for punters to make their selections. The usual back door of the house had been replaced by a split door so, like the horses that were his livelihood, he could stick his head out over the bottom half and conduct business.
Now I used to peek into the yard but I didn't go in, but a neighbour lady was a regualar vistor and she used to put the odd bet on for me. I had a bit of a knack for picking horses and she was going anyway.
There were always unifom police constables around in the entry and I have often wondered how the bookie managed to carry on when it was illegal and the police were always popping around. A friend told me that there was an understanding between the bookies and the police. The bookie had a "runner" and the police would run him in to the police station, charge and fine him, leaving the bookie to carry on as usual.
---